Summer Exhibition 2023
An Exhibition of Paintings, Prints, Ceramics, Jewellery, Sculpture & Craft from New and established Purple Gallery Artists



Exhibition Dates:


Saturday 15th July - Saturday 23rd September 2023. 
EXHIBITION OPENING: Saturday 15th July

and


Stone Carving Demonstration by Shapeshifters Group:
Viv Astling and Belinda Hutchings
Meet the Artists for a chat and a Tipple!
New Artists:
AJ Burns
John Currier
Brian Prangle 
Neil Hotchin
Ornamental Glass craft

Participating Purple Gallery Artists:
Colin Carruthers - New Paintings from his recent travels in South of France
Ron Jobson
Amanda Horvath
Louise Davies
Viv Astling RBSA
Joan Sharma
Belinda Hutchings
Sam Weeks
Marta Stolarska
Sue Dyer
Kat Bozic
Jane Marshall
Iveta Goddard
Vienna Forrester
Whittle Design 
etc..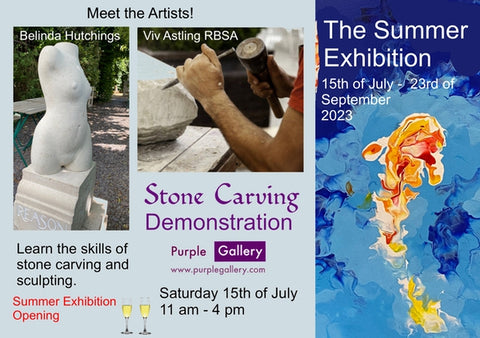 Artwork