Joan Sharma RBSA
Joan Sharma carves in stone. She begins with an idea and develops this directly with the stone. For larger pieces she often uses power tools to shape the bulk of the piece but enjoys the process of using hand tools to find the lines, smooth curves and rough surfaces that feel "right" for the sculpture. 
She works mainly in limestone and black serpentine but all the pieces in her upcoming Autumn 2023 exhibition in the 3D area of the RBSA gallery will be alabaster.
Recent work has included experimenting with incorporating resin or steel with stone. An ongoing interest of hers is producing lettering pieces that allow a thought or a feeling to be captured in
stone. 
As well as being a Member of the RBSA, Joan Sharma is a founder member of the nShapeshifter Sculpture Group.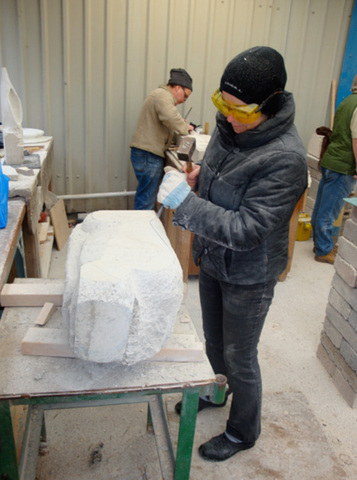 Artwork