Anna French
Anna graduated from De Montfort University in 2000 with a First Class Honours degree, specialising in kiln formed glass. She works in her Nottingham studio where her current collections include lifestyle pieces of semi-functional glassware. Her expansion into dichroic glass jewellery has proved so popular that she has developed an exclusive collection of dichroic glass jewellery.
All the jewellery is handcrafted which makes each piece of jewellery individual and unique.
The word "dichroic" is derived from the Greek, "dichroos", meaning two coloured and referring to the optical effect observed in certain crystalline materials in which different colours are seen when the crystals are viewed from different angles.  Dichroic glass was probably first made in the late 1880s in Germany. Today, glass artists use glass which has been treated with metal oxides. The oxides are vapourised in a vacuum with an electron beam gun. The vapour then floats up to become attached to the surface of the glass in the form of a crystal structure. Although there may be as many as 30 layers of these materials, the total thickness is only 3 to 5 millionths of an inch, creating the brilliance that allows glass artists to create such complex work.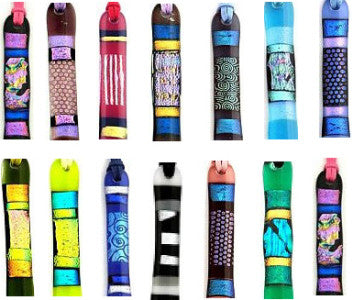 Artwork